Ahh, springtime.
I don't know about your state, but here in Louisiana, that means several things; the trees are budding and blossoming, there's a covering of green pollen coating everything – a sign of life being born anew in our world. The world is green and blooming; the farmers are planting their crops.
In our part of the world, they're planting rice, and harvesting crawfish – both crops that leave the fields filled with water. Our state is home to many fun little creatures (many of them of the reptilian and amphibious sort), and at this time of year it's very common to drive down the road and see turtles trekking across – setting out for the greener pastures in the fields across the way. Unfortunately, you also frequently see the broken carcasses of many that didn't quite make it all the way across.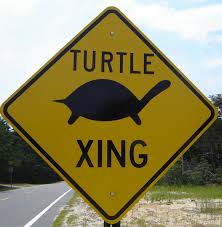 As I drove along this afternoon, heading for town to pick up my groceries, looking around at the sights along the road, I noticed one such small turtle set off on his venture across the highway. I told him as I passed what a foolish little turtle he was and begged him to turn back while he still could, but alas – he couldn't hear me and paid no heed to my admonishment. As I continued down the road, I watched him in my rear view mirrors, my heart sinking as I saw a car fast approaching him, and thinking, "Oh, no, he's not going to make it", and then cheering him on as the car passed and he continued – "Hurry, little turtle! You're almost there!"
Mere moments passed before he was out of my sight – his fate unknown. Still I drove on, noticing as the miles passed the bodies of those other turtles who, like my little friend, had set out, never to reach their destination; thinking as I went, "That one didn't make it across…that one didn't make it either…".
And then, a thought struck me –
I wonder if Jesus is watching us thinking the same thing?
"Oh, little one – you shouldn't go that way; it's not safe!"
"You're doing good – watch your step and keep moving!"
"Turn back! There's danger coming!"
"You made it! Keep going! You're almost there!
"Oh, Father, that one didn't make it across…"
Tears filled my eyes as I drove and Hebrews 12:1-3 came to my mind:
"1 Therefore, since we are surrounded by such a great cloud of witnesses, let us throw off everything that hinders and the sin that so easily entangles. And let us run with perseverance the race marked out for us, 2 fixing our eyes on Jesus, the pioneer and perfecter of faith. For the joy set before him he endured the cross, scorning its shame, and sat down at the right hand of the throne of God. 3 Consider him who endured such opposition from sinners, so that you will not grow weary and lose heart."
You know what?
When we set out on our Christian journey, things are looking great – greener pastures are just across the way; we're forgiven – clean – washed in the blood of the Lamb, and we have a bright, bright future ahead, with Satan nowhere in sight. Unfortunately, it doesn't take him long to look down the barrel of his guns and set his sights on us, though, and it's not long before we're doing battle with all the forces of hell, with their leader dead set to stop us from making it across.
There are those who never even set out on their journey with Christ, fearful of the unknown future and the mockery of those around them.
"That one didn't make it across…"
So many start well – but when faced with the imps of hell, fall prey to the enemy's devices and fall along the way.
"That one didn't make it across…"
Then there are those who set out, they meet the enemy head on – they fight those battles, and win…only to get almost across, and out of nowhere a fully loaded rice truck comes flying around the corner and sends them tumbling into the ditch, and too worn and damaged to continue, they give up.
"That one didn't make it across…"
But then there are the others.
Life comes at them, the enemy sends everything he can find to stop them, but they keep on going. The  winds from the oncoming trucks nearly knock them over – and they might pause for a moment, but hey keep plodding on; it's not easy – sometimes they get down and wonder why it's so hard, but they put their trust in God and keep going.
And one day they reach other side – the goal they been aiming for for so long.
Little turtles, we are surrounded by that "great cloud of witnesses" – those who have gone before us, the ones who kept the faith and are witnesses to us of the great faithfulness of God. We can look back at their lives and take courage, knowing that there is a God in heaven who is able,  "…to empathize with our weaknesses, …one who has been tempted in every way, just as we are--yet he did not sin." (Hebrew 4:15.)
A God who has NEVER failed His people in their time of need;
A God who is invested in the lives of His children, caring about even the most minute details of their lives. 
You may not be able to see Him; you might not hear his voice – but friend, rest assured He's cheering you on. All the host of heaven are watching you, on the edge of their seats, cheering with every victory, hearts lurching in their chest when you fall, and I can just imagine a great roar of approval filling the heavens when you pick yourself up, dust off your shell, set your sights on the goal and
Keep.
Plodding.
On.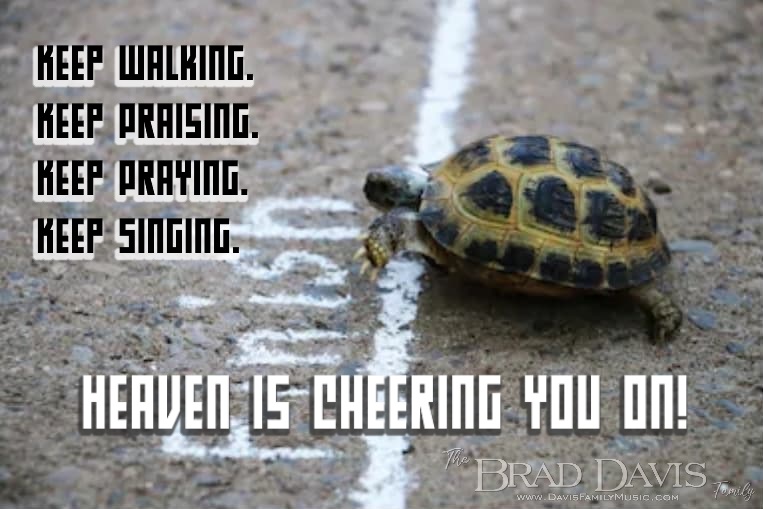 "Keep on going!"
"You can make it!"
"Don't stop now – you're almost there!"
And someday – oh, the shouts of joy we'll hear when we finally take that last step of our journey and walk into the waiting arms of our Saviour!
As we go through this Holy Week, I have been reminded once again of the fickleness of human nature. You see, the crowd that threw the coats in the street for Jesus to ride across and filled the air with their shouts of worship on Palm Sunday was the same crowd that, only a few short days later, screamed "Crucify Him". The same disciples who promised, only the night before his death, that they would never deny Jesus - only a few short hours later, they denied him.
It's easy to worship when everyone around you is worshipping.
It's easy to keep walking the walk when you're walking with others.
But when adversity comes…when we're worshipping alone…when we're in the dark and there's seemingly no one that understands the road we're walking…when the songs and the hosannas come through gritted teeth, and the tears escape no matter how hard we try to hold them back – then it's not so easy anymore.
When we turtles get to the middle of the road and see the cars coming at us from both directions – it's easy to become fearful and forget why we started this path in the first place.
It's not easy to stand for Jesus when you feel like you're standing alone.
But, friend – keep on walking. Don't turn back. Keep praising when it looks like there's nothing to praise God for. Keep praying when the prayers are only tears and the words won't come. Keep singing when the melody in your heart is gone. Keep walking when your feet seem to be made of lead. Keep following the One who went to the cross for you – "Consider him who endured such opposition from sinners, so that you will not grow weary and lose heart."
He's cheering you on.